Description:
ZigBee® is a specification for a suite of high level communication protocols using small, low-power digital radios based on the IEEE 802.15.4-2006 standard for wireless personal area networks (WPANs).
ZigBee® is targeted at radio-frequency (RF) applications that require a low data rate, secure networking, and low power consumption, especially for the battery powered Z-2400-Sleeper modules.
The Z-2400 Series operate with the user friendly MicroScan SCADA (Version 5.1 or later) software.
If you are looking for wireless monitoring and/or remote control solutions, the Z-2400 modules may be the answer.
Z-2400 devices have the ability to form a mesh network between modules. This technique allows the short range of an individual module to be expanded and multiplied, covering a much larger area.
When the mesh network discovers a new Z-2400 module, it will automatically incorporate it into the current network. If a node malfunctions, the mesh network will route the data through an alternate path using another node.
Ideal for laboratories, Hospitals, Industry and Utilities!
Typical Applications
Laboratories
Hospitals
Industry
Utilities
Common Specifications:
Wireless standard: IEEE 802.15.4-2006.
Wireless range: 100m typical line of sight with included whip.
Wireless Frequency: 2405~2485MHz.
Frequency Hopping: 15 Channels.
Power supply: 9~36Vdc.
Power Consumption: 2.5 VA.
ZigBee® Technology empowers the Intech MicroScan
Example schematic showing MicroScan Software and the 2400-A16 Remote Station plus Sleeper for mobile monitoring.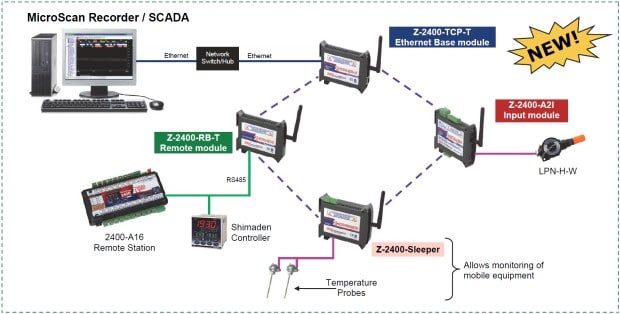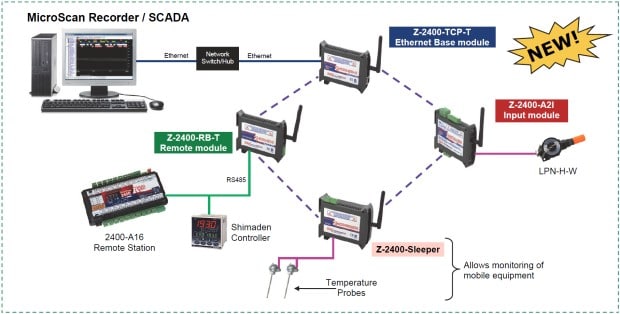 Model
Description and Features
Z-2400-RB-T
Base or Remote Module
Communications: RS232, RS422, RS485.
Wireless Power: 100mW.
Duty: Configurable as Base or Remote. Comms Converters when using as Base.
Embedded protocol support: MicroScan default ASCII.
Z-2400-TCP-T
Ethernet Base Module
Communications: Ethernet TCP/IP.
Wireless Power: 100mW.
Duty: Base only.
Embedded protocol support: MicroScan TCP.
Z-2400-A2I
Input Module
(Set as MicroScan mode.)
Universal channel data inputs: 2.
Inputs: RTD/Tc/mV/V/mA/Pseudo Digital.
Digital inputs: 4x 0~1Hz.
Digital outputs: 2x 30Vdc, 1A max.
Relay outputs: 2x 250Vac/30Vdc, 5A max.
Wireless Power: 100mW.
Z-2400-Sleeper
Sleeper Module
Universal channel data inputs: 2.
Inputs: RTD/Tc/mV/V/mA/Pseudo Digital.
Selectable update rate: 1,2,5,15,30,60 minutes.
Wireless Power: 1mW.
Embedded protocol support: MicroScan default ASCII.
Battery life: Approx 2 years life when wake up interval set to 2 minutes.
Poor signal strength reduces battery life.
Option to permanently power with plug pack power supply.
Z-2400-BAT
Replacement battery for Z-2400-Sleeper.
XU-USB
USB Programming Key for programming Z-2400-Sleeper using XU Software.
(Same Key as used for programming XU Series transmitters, 2400-A16, Z-2400-A2 Series, IN-uP4 and uP4-Din).
PSW-10-F
Instrument Quality 24Vdc Power Supply for the Z-2400 Series:
Output Voltage: 24Vdc
Max Current: 1 Amp continuous
Input Power Supply: 100~264Vac
See all our Antenna Options (Used when greater distances are involved).