How to choose a Temperature Sensor to fit your application? 
Choosing a temperature sensor can be an overwhelming task. With many different temperature sensors available in the industry it could be hard to know which one is better for your application, but we'll make it easier for you; 
There are 3 questions you need to ask yourself: 
1. What is the Temperature Range I want to monitor? 
Thermocouples measure a bigger temperature range: -260°C~1760°C.
RTD's measure ranges between -200°C~600°C.
2. What would be the ideal accuracy? 
RTDS are more accurate with a range between 0.1~1°C.
Thermocouples accuracy is 0.5~5°C.
3. What is your budget and how many do you need?
RTD's tend to be a bit more expensive than Thermocouples. 
We also tend to stock more of the RTD's temperature sensors. 
RTD vs. Thermocouple - Main differences
Features
RTD
Thermocouple
Temperature Range
-200°C~600°C
-260°C~1760°C
Accuracy
0.1~1°C
0.5~5°C
Response Time
Generally slow
1 to 7 seconds
Less than 0.1 second
Long Term Stability @100°C
Excellent.
(0.05°C/year)
Good. Subject to drift
(Variable)
Output
Resistance
0.4 ohm/°C
Highly Linear
Voltage
10~40 microvolts/°C
Approximately Linear

Electrical Noise Resistance
Less susceptible
More susceptible
Linearity
Fairly linear
Non-linear
Cost
Low to moderate
Low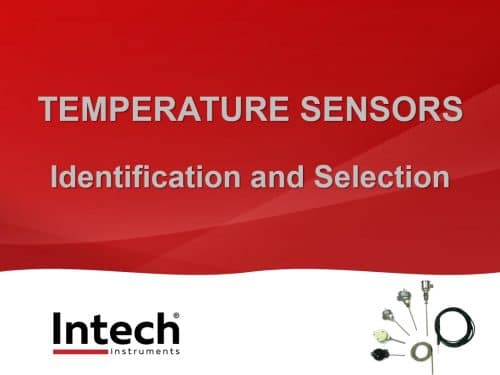 Download Our Probe Training presentation for more details.