XJ4 – Thermocouple Input Transmitter (Analogue)
Programmable Isolating Multi-Input to DC Current or DC Voltage Output Transmitter
Features
Field programmable Bi-Polar input output ranges
Multiple input options
Input to output isolation 2.0kV
High accuracy 0.1%
Universal AC DC power supply
Transmitter power supply
Compact DIN rail mount enclosure
Available standard or special calibration
Brand: INTECH
Usually in stock
Request a quote
Scroll down for product range
Input Types:
Thermocouple (T/C)
Bridge Strain Gauge
DC: mV, V & mA
RTD Pt100
Differential RTD
Potentiometer
Resistance
TYPE
XJ4
Output
Voltage
Field Programmable From 5V to ±10Vdc
 Maximum Output Drive = 20mA (500Ω maximum load @ 10Vdc)
Current
Field Programmable From 10mA to ±20mAdc
Maximum Output Drive = 15Vdc (750Ω) @ +20mA, 10Vdc (500Ω) @ -20mA
Universal P/S:
H
85~264Vac/dc; 50/60Hz; 5VA
M
22~90Vdc; 5VA
L
10~28Vac/dc; 50/60Hz; 5VA
Circuit Sensitivity
<±0.001%/V FSO Typical
EMC Emissions Compliance
EN 55022-A
EMC Immunity Compliance
EN 50082-1
Safety Compliance
EN 60950
Accurate to
<±0.1% FSO Typical
Linearity & Repeatability
<±0.1% FSO Typical (Unless Individual Specifications State Otherwise)
Ambient Drift
<±0.01%/C FSO Typical
Noise Immunity
125dB CMRR Average (2.0kVdc Limit)
R.F. Immunity
<1% Effect FSO Typical
Mains Isolation
250Vac
Mains Isolation Test Voltage
To Input/Output 3000Vac 50Hz for 1 min, To Earth 1500Vac 50Hz for 1 min
Signal Isolation Test Voltage
Between Input and Output 2.0kVdc for 1 min
Response Time
200msec Typical (From 10 to 90% 50msec Typical)
Operating Temperature
0°C~60°C
Storage Temperature
-20°C~80°C
Operating Humidity
5~85%RH Max, Non-Condensing
Mounting
35mm Symetrical Mounting Rail
Dimensions
L=100, W=22.5, H=100mm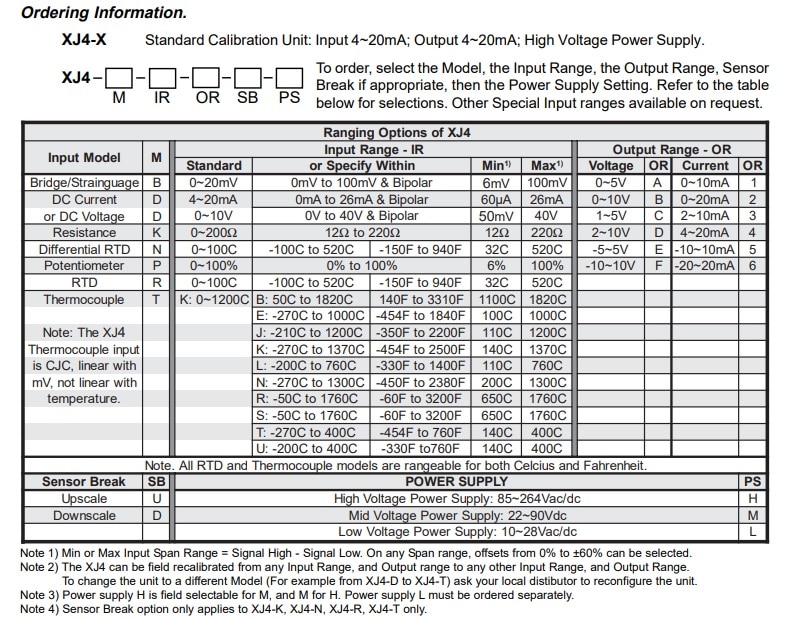 Product Range:
Code
Specifications
Price
Quantity
XJ4-T-K:0~1200C-4-H

Input Thermocouple Type K 0°C~1200°C; Output 4~20mA; 85~264Vac/dc Power Supply

$

385.00
Other ranges available on request
All prices are in NZ$, and GST exclusive and are subject to change without notice.
Not sure what you need? Ask us anything!