The 2300-A8II remote station has 8 isolated current inputs. The inputs are fully isolated from input to logic and between inputs. This station is ideal for monitoring existing 4~20mA current loops which are isolated from each other and cannot be connected to a common point of reference.
2300 Series
The Intech Micro 2300 Series is a system of modular I/O Remote Stations, that add an even lower cost option to Intech's already extensive intelligent I/O Remote Station family, which connect automatically to the Intech MicroScan V5 logging plus SCADA software package.
The 2300 Series I/O stations are made up of stand-alone Digital and Analogue—Input/Output stations. Communications between the computer running MicroScan V5 and the 2300 Series stations is RS485 (1 pair cable) multi drop as standard with an option for Ethernet TCP/IP.
A 32bit ARM CPU is used in the 2300 Series stations to provide high speed data processing and fast communications turn around times.
All 2300 Series stations have been equipped with status led's which are used to indicate the status of the Inputs or Outputs. This visual indication assists with fault finding and diagnostics.
All the I/O stations clip directly onto an industry standard DIN rail. All stations have a minimum isolation of 1000Vac rms between the field and logic.
Examples of connectivity – RS485 data Hi-Way: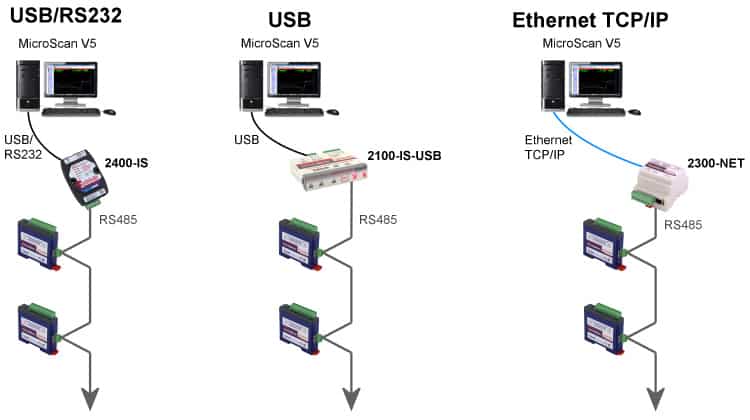 Important: The 2300-XX stations cannot share a data hi-way with the 2400-XX / 2100-XX stations and/or Shimaden Controllers.