Intech Remote Support (TeamViewer)
Example Screen:
(this is NOT the file running on your computer):
Look for this Icon on your computer Desktop (once the file is saved there) and double click:

This file allows Intech to provide Remote Support assistance to your computer (via TeamViewer software).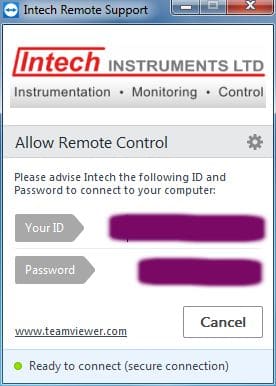 The file runs immediately without installation and does not require administrative rights – just download (for ease of use, we recommend saving the file to your computers' Desktop), and run the exe (click 'Yes' if a UAC Warning window appears); then advise Intech of Your ID and Password.
Internet access is required. Support charges may apply.
Note for MicroScan SCADA V5.1:
The Intech-Remote-Support.exe file is automatically included with MicroScan SCADA V5.1 – access via the shortcut at:
Start > All Programs > MicroScan Software > Remote Support.
Note that the Intech-Remote-Support.exe file installed with MicroScan SCADA V5.1 may not be the latest version as linked on this page.